Archive for the 'silver' Category
« Older Entries
|
Friday, September 23rd, 2016
For nice looking version, click HERE. Thanks!

USA's Most Trusted Precious Metals Dealer

Joel direct: 503 213 3352
Happy Autumn,
Nice to see silver and gold rallying once again. Silver broke $20 this morning ($20.05 as I type) and is now up 48% since January 28. Forty. Eight. Percent!
We've just acquired a huge stack of 100 oz RCM silver bars (Royal Canadian Mint) and we'll selling them CHEAP today! Really cheap! And no minimum purchase.
We also have THE key date proof $10 Gold Eagle in a perfect Proof 70 and an original box of those nice Gold Mercury Dimes (that sold out at the Mint last Spring).
100 oz RCM Silver Bars – NO MINIMUM

The 
Royal Canadian Mint
makes the purest silver bars in the world at 
999.9
fine silver. We have a STACK of these available today for only 
spot +.69¢
/oz. We've checked over a dozen leading competitors this morning and we can say with confidence, this is the 
lowest price in the USA
. 
Only spot +.69¢/oz
NO MINIMUM
FREE shipping on 3 or more
Maximum at this price – 20 bars per order
KEY DATE:
NGC certified $10 PROOF Gold Eagle – 1993-P PF70 Ultra Cameo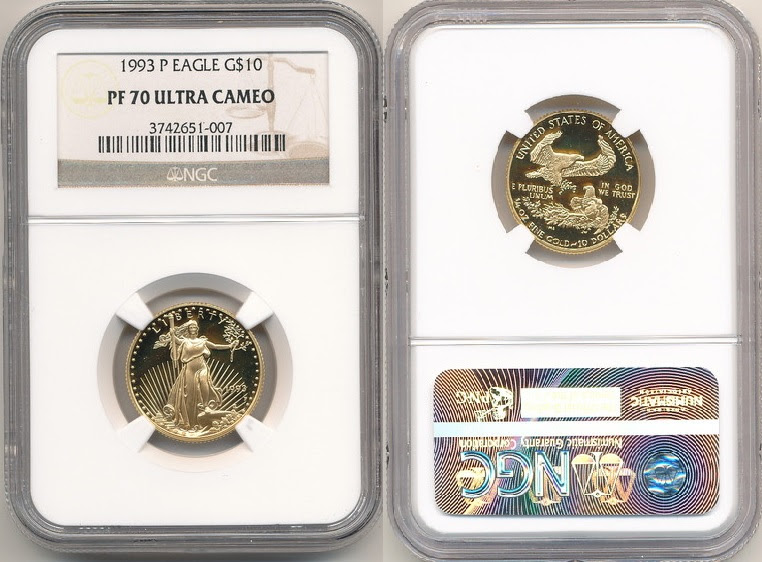 This is THE key date (only 382 in this grade) for Proof $10 Gold Eagles
We sold one last December, haven't seen another since.
NGC price guide is up to 
$1,050
.
NONE have been sold on eBay this year.
One is currently listed at $1,039
Your price? How about $100 less?
Only $939 with FREE shipping
ONE AVAILABLE – exact coin pictured, so…
FIRST COME, FIRST SERVED
________________________________________________________
We just acquired an original box of ten (10)
2016 Mercury Dime 2016 Centennial Gold Coins
These 1/10 oz, 24k gold beauties were sold by the US Mint in May with a strict mintage of 125,000 (10 per household) and they sold out FAST.
The going rate on eBay today is $285-$289.95 each (screen shot below was taken today)
We're asking only $259.50 each ($2,595 for the box of 10) with FREE shipping
One box of ten(10) available.
FIRST COME FIRST SERVED
FREE shipping
Coins are all original, unsearched etc, includes everything pictured – each coin in original capsule, presentation boxes, COA…
Also available:
EVERYTHING! If you don't see it among the four million dollars of inventory in our eBay store, or on www.vaultwholesale.com, please ask. If we don't have it on hand, we will quickly source it for you at a great price.
Prices include discount for payment by bank wire or personal check. Most prices include shipping and insurance (see individual items for minimums, if any, required to receive free shipping). Prices offered are indications and are subject to change without notice. Please call to confirm.
Questions? We're always glad to hear from you. Feel free to call or email any time.
Thanks for looking and thanks again for your business. We appreciate it!
Regards,
the Coin Brother
We're ALWAYS buying.

Most generous prices paid in the biz.

What do you have to sell today?

Love to invest more in precious metals, but don't have the resources?


Ask us how to convert your IRA or 401(k) plan into a self-directed
Precious Metals IRA

Posted in blog, gold, silver | No Comments »
Next Page »