Weekend specials from Vault Wholesale 10.19.19
       USA's Most Trusted Precious Metals Dealer
Joel direct: 503 213 3352
Happy Saturday,
 Last Friday, I used the word "stability" (with a question mark at the end) to describe the market. This week I can remove that question mark – the market IS stable, so much so that it finished almost identically to where it ended last week. Not sure I've ever seen this before, but it gives me some confidence (something my Yankees need a little more of!).
Nice trick slipping a baseball comment in there, but enough about baseball – let's get to our weekend specials.
Who's looking for some back date 
Silver Eagles
? Interesting change in the market lately. I see that premiums have (mercifully) come down on sealed 2010-2016 boxes, while boxes from before 2010 have all but disappeared from the dealer-to-dealer market. The highest retail prices we're seeing are on 2011-2013 Eagles so let's feature those at the new lower premiums – and still
beat our biggest competitor by $500
 per U.S. Mint-sealed box.
Speaking of beating our competition by a buck an ounce on one oz. silver coins, we have around 800 one oz silver Engelhard Prospectors that are ready to ship in lots of 100.
 Save $100 per lot!
 We also have the new America the Beautiful 5 oz silver coins in stock – featuring the San Antonio Missions of Texas. As usual, we expect these to sell out right away, so if you're considering a box of these, please don't hesitate. Those back date coins have turned into rather expensive collectibles.
 And, as always, we offer a tremendous selection of cherry-picked certified coins that we're offering at a fraction of price guide.
_________________________________________________
Certified coin specials: 
 This week's hand picked numismatic gems include a beautiful 1852 Gold Dollar in MS65, a lovely 1811 Bust Half Dollar, a phenomenal 1910 Barber Proof Quarter and a rare 200 year old Capped Bust Quarter (actually 201 years old).
 _____________________________________________
JUST IN:
 We just got offered a sealed box of 2014 Noah's Ark 1/4 oz silver coins from Armenia. These coins have been minted in limited runs since 2012 and they always sell out. We literally can't find another sealed box available anywhere in the USA. Please see below for details. Thanks
________________________________________________
Market Conditions:
This week's closing spot prices, per 
Kitco
:
Gold $1,490.60
Silver $17.61 (same as last Friday!)
Platinum $896
Palladium $1,761 (up another $54 since last week and up 10% in six months)
______________________________________________
Thanks for reading. We appreciate you. Have a great weekend!
CERTIFIED COIN SPECIALS
 I had a lot of fun going through this week's coins. I'll tell you, it wasn't easy narrowing it down to four. In fact, in addition to what is listed below, we have a stunning 1888-O Morgan in NGC MS66 (their top grade for this date) and a great looking 1896 Proof Barber Dime in NGC PF66 that just missed the cut for the newsletter. If those spark your curiosity, feel free to email for images and prices. Thanks.
Here are the four that made the cut 🙂
1852 GOLD DOLLAR – PCGS certified MS65
 That's a good looking early-date gold dollar!
PGCS population is only 68
Price guide has this little beauty listed at 
$2,850
Your price is only $1,995 – nice price break!
FREE SHIPPING
Exact coin pictured. First come, first served
______________________________________
1811 BUST HALF DOLLAR (small 8) – PCGS certified MS62
Really nice details on this incredible 200+ year old coin!
 For those who (like me) can't afford the $95,000 MS67 version, PCGS price guide on this sweet MS62 (population 26) is 
$4,000
Your price? Only $2,695
FREE SHIPPING
Exact coin pictured – first come, first served
________________________________________
1910 PROOF BARBER QUARTER – NGC certified PF67 ULTRA CAMEO
with CAC verification
 One of the best looking old silver proofs you're going to see. In fact, for comparison, I'm going to show you a higher grade proof quarter that absolutely pales in comparison to this stunner
(please see below).
NGC price guide is a rock solid 
$14,250
Your price is only $9,750. That's $4,500 below price guide!
FREE SHIPPING
Exact coin pictured – first come, first served
Here's a PF68 that, for my money, isn't in the same league as our featured PF67. Truly a HUGE difference in eye appeal.
 On these rare old coins, eye appeal is obviously HUGE. The pictures above speak for themselves. Our featured PF67 is a much more attractive coin than the higher graded PF68.
Note: If you prefer the 1908, we'll sell it for $2,500 below price guide.
_____________________________________________________
1818 BUST QUARTER – NGC certified MS65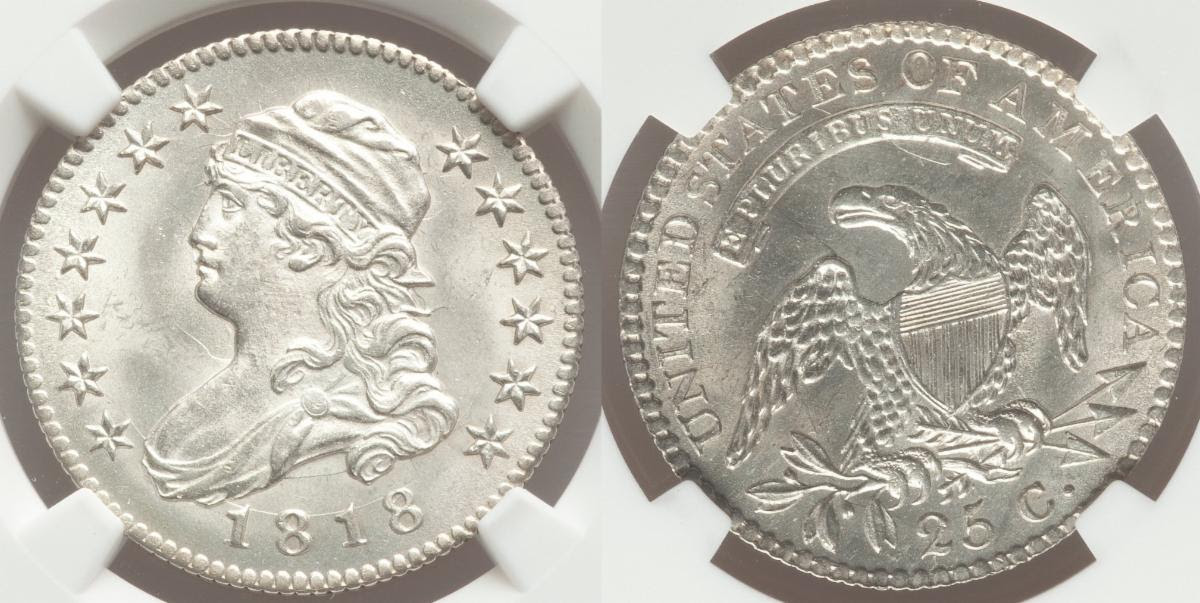 LOOK. AT. THAT! Wow – what a great coin.
201 years old, still looking amazing and…
$14,050 below price guide!
NGG population is only 21.
Price guide is a rock solid 
$34,000
Your price is
only
$19,950
FREE SHIPPING
Exact coin pictured. First come, first served
 _______________________________________________________
Call Joel direct at 503.213.3352 to order
2019 ATB 5 oz SILVER –  SAN ANTONIO MISSIONS (TEXAS)
 This is coin #49 of the America the Beautiful set. The first 48 issues have all sold out. The lowest mintage coins (Hawaii and Alaska) are selling at insane collectible prices (4 – 5 times the intrinsic silver value) and rising.
We have only six boxes not spoken for.
Boxes are US Mint-sealed and contain 100 x 5 oz coins (500 oz total)
Only $2.99/oz
over melt value ($10,300 total)
FIRST COME, FIRST SERVED!!!
FREE SHIPPING – discretely packaged, fully insured, signature required
_____________________________________________
ATB collectors:
 we just came across a lot of 6 of the early date coins:
2011 Gettyburg
2011 Vicksburg
2011 Glacier
2011 Olympic
2011 Chicksaw
2012 Hawaii
Sold as six-coin lot for only $978. That's $100 lower than A***X.
 Ironically, the coins are in sealed caps with A***X labels on the outer bags. Funny how so many folks buy from the big guys only to find that when they want to sell them back, Vault Wholesale offers higher buy prices so they sell them to us!
ONLY ONE lot of six coins available.
First come, first served.
FREE SHIPPING
____________________________________________
2011-2013 SILVER EAGLES – US Mint-sealed Monster Boxes
(500 oz per box)
2011-2013 are currently the priciest back date boxes commonly traded.
AP*** has recently reduced their prices on sealed boxes to spot +3.99/oz on these dates.
Your price is 
only spot +2.99
/oz – 
you save $500
(total price is $10,300)
link to competitor available on request
 Please call or email for pricing on other dates. Thanks.
_______________________________________________________
ENGELHARD PROSPECTORS – ONE OZ SILVER ROUNDS (100 coin lots)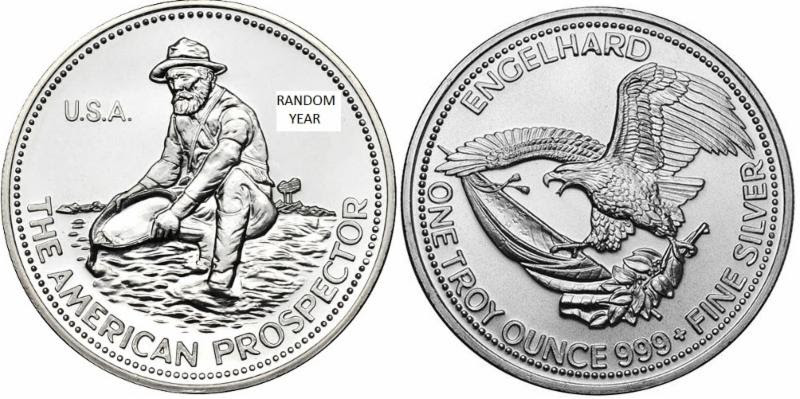 Engelhard has been out of business for decades, yet their bars and rounds are still as in demand as ever.
Our leading competitor is getting spot +3.39/oz today for 100 coin lots and spot +2.99/oz for lots of 500 (link available on request). How about we offer them for a buck an ounce lower?
Your price:
100 coins: only spot +$2.39/oz ($2,000 total for 100 rounds)
500 coins: only spot +$1.99/oz ($9,800 total for 500 rounds)
Please note – Engelhards are "secondary market" (aka USED, but not abused)
FREE SHIPPING
________________________________________________
90% SILVER:
As always, we have a tremendous supply of 
90% silver
 (pre-1965 US "junk silver") at market leading prices. Right now, we can do even better than our published prices on 
Roosevelt Dimes, Franklin Halves and Walking Liberty Halves
. Please check our 
website prices
and then ask how much lower we can go for you.
___________________________________________________
JUST IN:
 We've been offered a rare sealed box of 2014 Armenian NOAH's ARK 1/4 oz silver coins. These coins have been minted for the Central Bank of Armenia since 2012 by the German firm of Geiger Edelmetalle. They come in a sealed wooden box (nice dark, solid wood featuring the mint's silver logo; box is 6.5′ x 6.5′ x 3″).
 The box contains 500 of these striking 1/4 oz coins – a total of 125 oz of .999 fine silver.
2014 ARMENIA NOAH'S ARK 1/4 oz SILVER COINS 
Mint-sealed collector's box of 500 coins (125 total oz)
Pricing:
 We can't find anyone with a 2014 box in stock. Nobody! But a couple of our leading competitors still display their price (with a SOLD OUT notation) and each one has the same price: $6.50 per coin (= $3,250 if they had a sealed box of 500).
 AP*** has the new 2019 coin listed at $5.81 each ($2,905 for a box).
 Let's beat that price by $2 an ounce, save you $250 AND you get the sold out 2014 issue.
Only $5.31
per coin ($2,655 for the sealed box of 500 coins)
FREE SHIPPING
Only ONE box available – first come, first served.
__________________________________________________
 Call Joel direct at 503.213.3352 to order
Also available:
EVERYTHING! If you don't see it among the 
over four million dollars of inventory
 in 
our eBay store
, or on 
www.vaultwholesale.com,
please ask. If we don't have it on hand, we will quickly source it for you at a great price
 Prices include discount for payment by bank wire or personal check. Most prices include shipping and insurance (see individual items for minimums, if any, required to receive free shipping). Prices offered are indications and are subject to change without notice. Please call to confirm.
Questions? We're always glad to hear from you. Feel free to call or email any time.
Thanks for looking and thanks again for your business. We appreciate it!
Joel's direct line: 503.213.3352
For our newer clients:
WHO EXACTLY IS VAULT WHOLESALE?
 Great question!
 We are a small, family run, U.S. business, with offices in Central California and Southern Washington State. We're celebrating 20 years on eBay, where we are Power Sellers, with Top Rated status, earned through 100% positive, 5 star feedback on over 30,000 transactions. We also have an A+ rating from the BBB.
At Vault Wholesale, you are always speaking with an owner. No ever-changing bunch of guys in cubicles, no, "please listen as our menu options have recently changed", no "dial 9 for a company directory", just an owner, 365 days a year!
 So, to answer the bold red question above,
Vault Wholesale is America's Most Trusted Precious Metals Dealer! 
We're ALWAYS buying.

Most generous prices paid in the biz.

What do you have to sell today?

Love to invest more in precious metals, but don't have the resources?

Ask us how to convert your IRAs or 401(k) plan into a self-directed
Precious Metals IRA
Vault Wholesale

Joel's direct line: 503.213.3352