Weekend specials from Vault Wholesale 11.15.19
       USA's Most Trusted Precious Metals Dealer
Joel direct: 503 213 3352
Happy Friday,
 A couple of weeks ago, we mentioned that a renowned geologist had contacted Vault Wholesale to discuss the marketing of his life's passion – an amazing legacy collection of crystalline gold and gold nuggets, collected over a lifetime from historic mining districts.
 Well… the negotiations went well and we are now in a position to offer this world class collection to our clients! We'll discuss more later in this newsletter, but if you're already fascinated, 
here's a link
 to an article about crystalline gold, gold nuggets and the provenance of this historic collection.
________________________________________________
 This week, we have a great deal for you on the always popular pre-1933 $2.50 Gold Indians, a special buy on Franklin half dollars, a $1,000-below-market price on sealed boxes of San Francisco Silver Eagles and a market leading price on the next issue of the 5 oz America the Beautiful (ATB) silver coins, commemorating Idaho's River of No Return.
 And, of course, four fresh, cherry picked certified numismatic treasures.
________________________________________________
Certified coin specials: 
  As always, we go through literally thousands of coins to come up with four rare ones that offer terrific eye appeal and a price that is well below price guide.
 This week's featured coins include:
– a highest-grade-known MS67 1946-D Walking Liberty Half Dollar
– a very rare 1871 Gold Liberty Round (.25¢ California Fractional Gold)
– a stunning 1900 Proof $2.50 Gold Quarter Eagle and
– a nice 1892-CC Double Eagle that's $10,000 below price guide!
  _____________________________________________
Market Conditions:
 The market has taken some bruises since our last newsletter, but given the overall strength of the market this year (gold is up 24% in the last 12 months, Silver is up 22%, Platinum has gained 12% since February and Palladium is up 5% since March), this might be perceived as a small correction and an opportunity to buy in before the rally continues.
This week's closing spot prices, per 
Kitco
:
Gold $1,468.90
Silver $17.04
Platinum $893
Palladium $1,711
______________________________________________
Thanks for reading. We appreciate you. Have a great weekend.
GOLD SPECIALS:
 We're offering some nice lots of 
XF $2.50 Gold Indians
 for 
$100 off
 our 
our website prices
. Quantities are limited!
Pre-1933 U.S. GOLD: $2.50 INDIAN QUARTER EAGLES – XF (extra fine)
 The $2.50 Indian remains one of the most popular pre-33 US coins.
 Me? They're my favorite U.S. coin design!
 Coins are XF (extra fine) and are sold in 10-coin lots
Our published price is 
$314.90
 per coin ($3,149 for lots of 10)
TAKE $100 OFF (only $3,049 per lot of 10)
Coins are random date(s) of our choice
FREE SHIPPING
Discounts are per lot (not per coin!)
__________________________________________________
JUST IN:
 As I type, we just acquired a small quantity of 1908 NM (No Motto) Saint-Gaudens from the highly sought after Rough Rider Hoard.
SAINT-GAUDENS 1908 NM – PCGS certified MS64 – ROUGH RIDER HOARD
PCGS's website shows auction results of $1,800 for these (see screen shot below)
Your price: only $1,695 each with no minimum order
Only NINE (9) available – FIRST COME, FIRST SERVED
FREE SHIPPING
auction results from PCGS website (screen shot from today):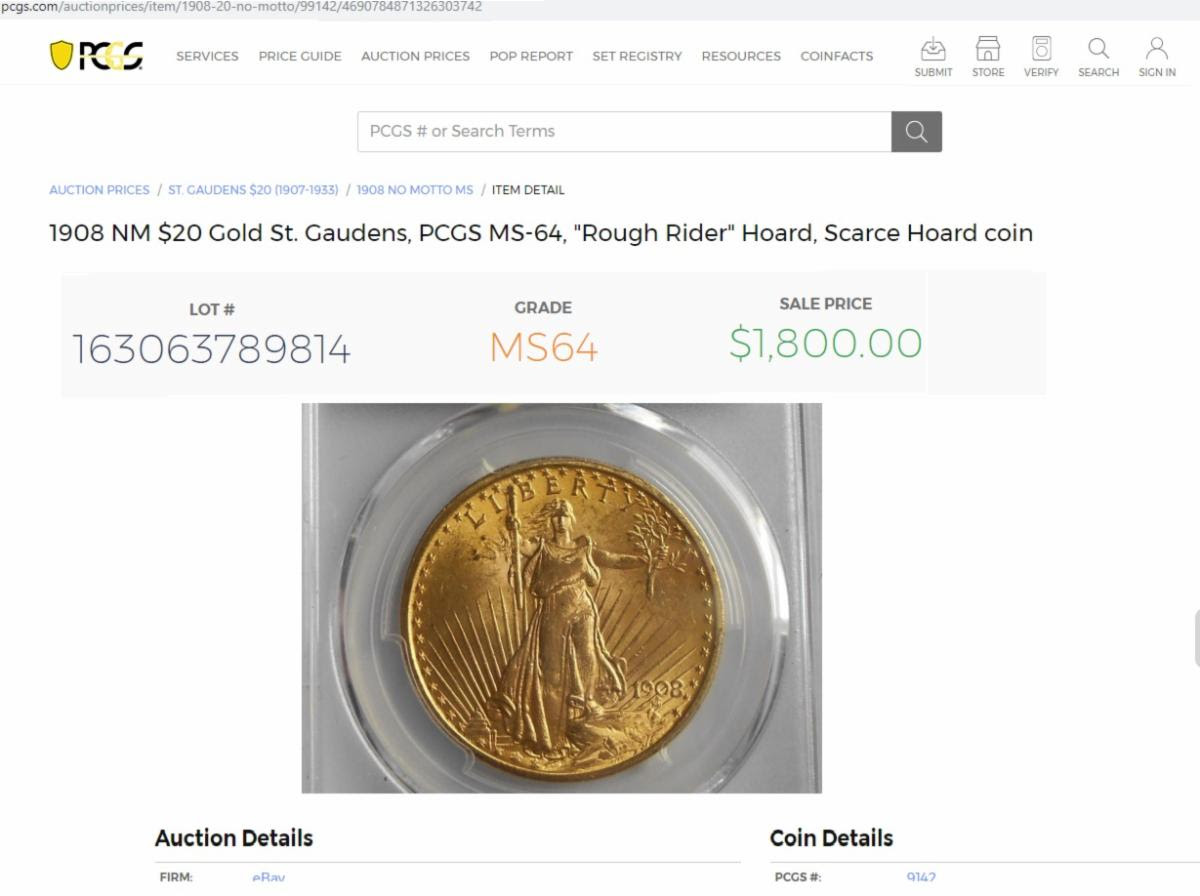 ___________________________________________________
And… as I type
, I just completed a deal to purchase a nice bunch of PCGS MS64 and MS65 Saints and a couple of dozen PCGS MS63 $20 Liberty. All will be very attractively priced! How low? I can't publish the number, but they're all well below 
our published prices
.
Please email or call for a quote.
___________________________________________________
Call Joel direct at 503.213.3352 to place your order.
 The new America the Beautiful (ATB) 5 ounce bullion coin is being issued next week, celebrating Idaho's River of No Return.
As always, we expect to be the FIRST DEALER in the US to have these coins in stock! 
Inventory is extremely limited and the coins will sell out quickly.
ATB – 5 oz SILVER – RIVER of NO RETURN (IDAHO) – sealed box (500 oz)
 Our competitors are pre-selling this coin with the advisement, "expected ship date of December 12". The mint-sealed boxes you'll receive from Vault Wholesale can ship as early as next Friday (11/22) – first in the USA!
Only spot +2.95/oz ($9,995 for a sealed box of 100 coins = 500 oz of USA silver)
VERY LIMITED SUPPLY – first come, first served
We also have one box of the San Antonio Missions issue available. Same price.
FREE SHIPPING
__________________________________________________
FRANKLIN HALF DOLLARS – as low as spot +.79¢
 That's no typo! We have a pile of Franklins that we're selling for as little as spot +.79¢
$50 face: spot +1.19/oz ($652)
$100 face: spot +1.09/oz ($1,296)
$250 face: spot +.99¢/oz ($3,223)
$500 face: spot +.89¢/oz ($6,409)
$1,000 face: 
only spot +.79¢
/oz ($12,748)
Only $2,500 face available as these prices
FREE SHIPPING
_______________________________________________________
SAN FRANCISCO SILVER EAGLE MONSTER BOXES – MINT SEALED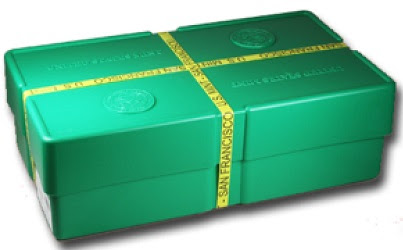 We have all dates from 2011- 2014 today (your choice).
AP*** only has 2014-S in stock and they're asking spot +4.99/oz.
Your price: only spot +2.99/oz. ($10,015 for each sealed box)
You save $1,000 vs. AP*** (link to competitor available on request)
FREE SHIPPING
________________________________________________
Call Joel direct at 503.213.3352 to place your orders.
CERTIFIED COIN SPECIALS
 Here are this week's four beautiful and rare coins, all hand picked for their eye appeal and great price.
1946-D WALKING LIBERTY HALF DOLLAR – PCGS certified MS67
Yup. That's a beauty; a very nice strike, tons of luster and just a tinge of attractive rim toning.
PCGS has graded ZERO coins higher than this gem – this one is as good as it gets.
PCGS price guide is a solid 
$1,200
 (NGC is $1,450)
Our asking price is only $979
Exact coin pictured. First come, first served 
FREE SHIPPING
______________________________________
1871 LIBERTY ROUND .25¢ PIECE – BG-810 – PCGS certified MS65
Have a look a this very rare California Fractional Gold piece.
PCGS price guide notes, "8 to 12 known". That's RARE.
The population in this grade is only 3, with only 6 ever graded higher.
PCGS price guide is a rock steady 
$2,400
Your price is only $1,895
FREE SHIPPING
Exact coin pictured – first come, first served
________________________________________
1900 $2.50 LIBERTY QUARTER EAGLE – NGC certified PF64 Ultra Cameo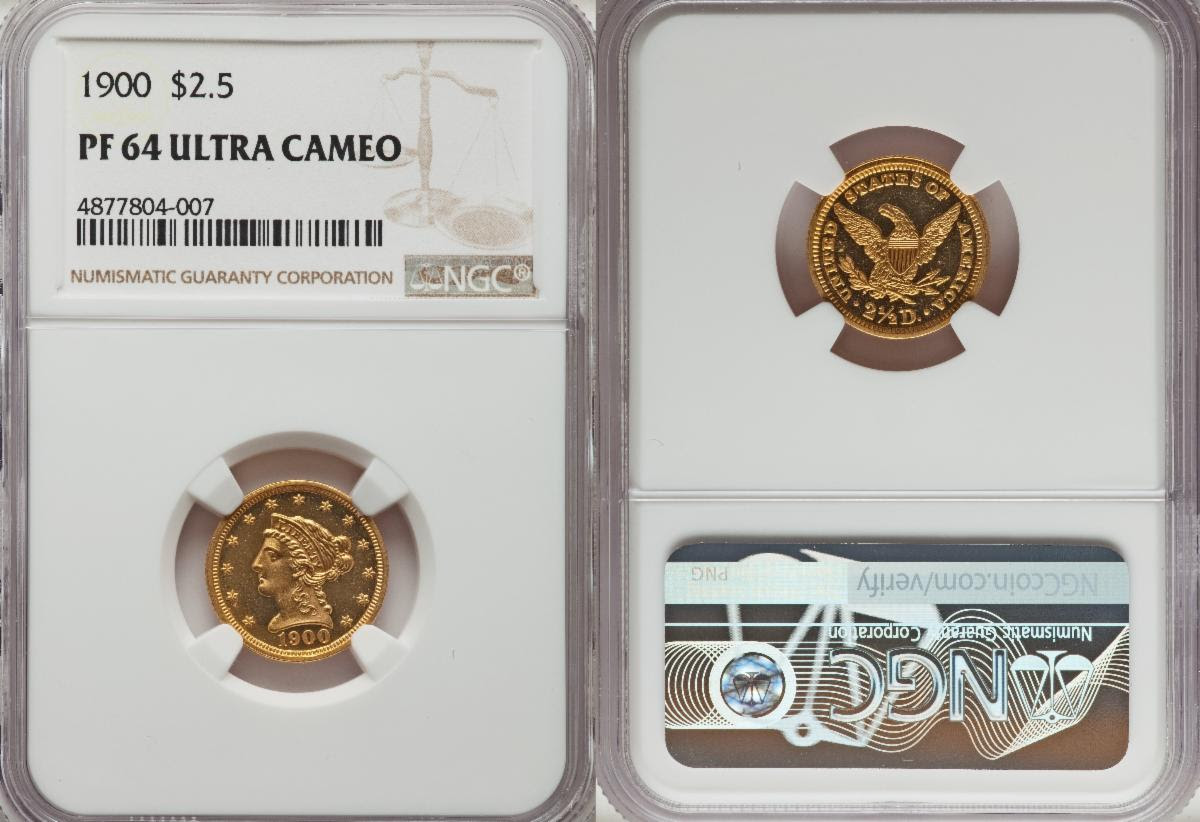 Ooh la la! That's a sharp looking PROOF!
NGC census is only 4, with 32 available in higher grades (for really rich people!)
Your price is only $9,500  
Exact coin pictured
First come, first served
FREE SHIPPING
_____________________________________________________
1892-CC $20 LIBERTY DOUBLE EAGLE – NGC certified MS61
In all candor, this isn't the rarest Double Eagle you'll find (NGC census is 86, with 43 available in higher grades), but it is rare that they come to market at all, let alone at a price this tempting.
Your price is TEN THOUSAND DOLLARS LESS!
only $12,995 
Exact coin pictured
First come, first served
FREE SHIPPING 
__________________________________________
 Call Joel direct at 503.213.3352 to order
HISTORIC CRYSTALLINE GOLD and GOLD NUGGET COLLECTION
 For those unfamiliar with crystalline gold, please read 
this great article
 on our website. The blog post also features several more pictures from this meticulously curated collection.
 This extraordinary, one-of-a-kind legacy, containing over 11 oz of gold nuggets and around 13 oz of crystalline gold, is now available for sale, exclusively through Vault Wholesale.
While our seller would greatly prefer to have the entire collection go to one buyer, we have discussed splitting in two.
 Serious inquiries only please! Thanks.
FREE SHIPPING
________________________________________
 Call Joel direct at 503.213.3352 to order
Also available:
EVERYTHING! If you don't see it among the 
over four million dollars of inventory
 in 
our eBay store
, or on 
www.vaultwholesale.com,
please ask. If we don't have it on hand, we will quickly source it for you at a great price
 Prices include discount for payment by bank wire or personal check. Most prices include shipping and insurance (see individual items for minimums, if any, required to receive free shipping). Prices offered are indications and are subject to change without notice. Please call to confirm.
Questions? We're always glad to hear from you. Feel free to call or email any time.
Thanks for looking and thanks again for your business. We appreciate it!
Joel's direct line: 503.213.3352
For our newer clients:
WHO EXACTLY IS VAULT WHOLESALE?
 Great question!
 We are a small, family run, U.S. business, with offices in Central California and Southern Washington State. We're celebrating 
21 years on eBay
, where we are 
Power Sellers
, with 
Top Rated
 status, earned through 
100% positive
, 5 star feedback on over 30,000 transactions. We also have an A+ rating from the BBB.
At Vault Wholesale, you are always speaking with an owner. No ever-changing bunch of guys in cubicles, no, "please listen as our menu options have recently changed", no "dial 9 for a company directory", just an owner, 365 days a year!
 So, to answer the bold red question above,
Vault Wholesale is America's Most Trusted Precious Metals Dealer! 
We're ALWAYS buying.

Most generous prices paid in the biz.

What do you have to sell today?

Love to invest more in precious metals, but don't have the resources?

Ask us how to convert your IRAs or 401(k) plan into a self-directed
Precious Metals IRA
Vault Wholesale

Joel's direct line: 503.213.3352